New IEMA Practitioner Certificate in Environmental Management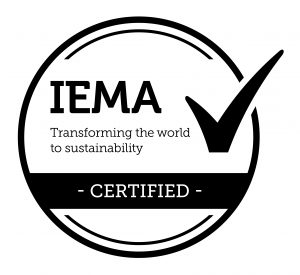 This course has been developed to provide learners with detailed environmental and sustainability knowledge as well as being able to apply environmental management/assessment tools and skills that are needed to be an effective environment/sustainability practitioner.
The course will normally be delivered across 3 taught modules and a 4th module consisting of a submitted Assessment of Competence. The modules are:
Module 1: Fundamentals of Sustainability, Business and Governance
Module 2: Environmental Principles, Policy and Legislation
Module 3: Environmental Management/Assessment Tools and Skills
Module 4: Assessment of Competence
The full course should be completed within 12 months.
This course is aimed at learners who are working within environmental management and require detailed knowledge of environmental/sustainable principles, management tools and skills to effectively deliver positive change.
Learners attending this course are expected to have a foundation level of environmental / sustainability knowledge gained through work experience or a relevant course e.g. the IEMA Foundation Certificate in Environmental Management or equivalent.
Successful delegates will become Practitioner Level members of IEMA
Costs shown include VAT, course fees, all materials and learner pack and your first year IEMA membership.
IEMA Practitioner Certificate in Environmental Management
Price:
£3436.80
Location: Bromsgrove

Course Dates:

| Block | Start Date | End Date |
| --- | --- | --- |
| Week One | 23 September 2019 | 27 September 2019 |
| Week Two | 21 October 2019 | 25 October 2019 |
| Week Three | 25 November 2019 | 29 November 2019 |

Places left on this course:

12