The government has announced that a new building safety regulator will be established as part of the Health and Safety Executive (HSE).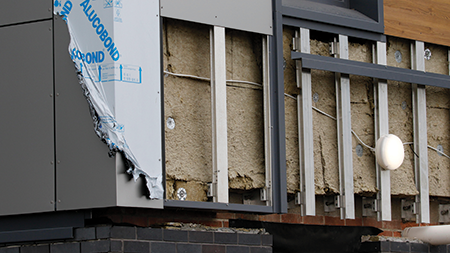 Intended to raise building safety and performance standards, including overseeing a new, more stringent regime for higher-risk buildings, housing secretary Robert Jenrick announced the immediate establishment of a new Building Safety Regulator within the HSE as well as a proposal to extend the existing combustible cladding ban and accelerate its removal from buildings across the country.
"Building owners are responsible for ensuring their buildings are safe and where there is no clear plan for remediation, the government will work with local authorities to support them in their enforcement options," said the announcement.
Speaking in the House of Commons, the minister also made clear that from next month he will begin naming building owners where remediation has not started to remove unsafe Aluminium Composite Material (ACM) cladding from their buildings.
Jenrick confirmed the government will consult on extending the ban on combustible materials to buildings below 18 metres and we will seek views on how risks are assessed within existing buildings to inform future policy.
With a strong track record of working with industry and other regulators to improve safety, the HSE said it will draw on experience and the capabilities of other regulators to implement the new regime. Former HSE chair Dame Judith Hackitt will chair a Board to oversee the transition.
HSE chair Martin Temple said he was "proud" the government had asked the HSE to establish the new regulator, describing it as "in good hands", and while IOSH welcomed the commitment to accelerate building safety improvements, it called for "visible and tangible action" to be taken.  
"While it's positive to hear the new government declare it won't tolerate the slow pace of improvement to building safety in the UK, which IOSH and others have raised concern over, we now need to see visible and tangible action, with these announcements just the start of an extensive and active delivery-programme," said Richard Jones, head of policy and regulatory engagement at IOSH.
"Working with the HSE will be reassuring for many, given it's a world-class regulator that secures near universal praise nationally. It has successful experience of co-regulation, as well as of operating permissioning and safety-case regimes and enforcing the Construction (Design and Management) Regulations, so should be ideally placed for such a role."
But Jones warned how vital it is that it's properly resourced for taking on this substantial additional responsibility and workload for this new regime, which IOSH Magazine understands will be fully chargeable.
"In IOSH's response to the combustible cladding ban consultation, we emphasised the need to remove it from all high-rises in both residential and non-residential buildings," he added. "We are pleased that the government is now reconsidering its position and have clarified its guidance for building-owners."
IOSH