A trial using electric and hybrid plant on a sensitive central London construction site has cut the risk of work-related injuries and brought wider environmental benefits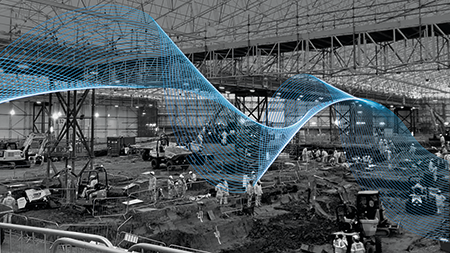 Sustainability, carbon emissions and greater awareness of impact on the global climate are driving the agenda of the construction sector. Cleaner, greener ways of resourcing, fuelling and managing our sites are becoming the focus during the planning and delivery of works. We have less time than ever to make changes to reduce the effects generated through 200 years of fossil fuel consumption, and the construction industry needs to play its part in this process.
Construction and engineering company Costain is supporting its clients and its supply chain and enabling the uptake of low-carbon technologies, which include electric, hydrogen and hybrid plant, according to the contractor's group carbon manager Lara Young.
This move is in line with the company's climate change strategy and ambitious carbon reduction targets, in support of the government's plan to cut greenhouse gas emissions to almost zero by 2050.
By putting sustainability at the forefront of construction projects, businesses can achieve savings and improve efficiencies. Key among these are the safety and occupational health benefits.
Costain, as one half of the Costain-Skanska JV, has been working with its supply chain to explore opportunities to reduce risk and eliminate carbon from working processes. The team is now trialling electric and hybrid plant on urban and rural sites.
Recent construction activities on the High Speed 2 rail link's enabling works contract at Euston in central London provided the opportunity to trial and implement a diverse selection of new-to-market small, nimble electric plant to deliver safety, innovation and value for money (see 'Safe by design', IOSH Magazine, August 2019: bit.ly/2JvKw4q). By using these assets strategically, Costain engineered a sustainable approach to support a 200-strong construction and archaeological team working on the largest-ever excavation of a burial ground in the UK.
All the work on the St James's Gardens site was carried out beneath a substantial encapsulation structure, as required under Schedule 20 of the High Speed Rail (London-West-Midlands) Act 2017. The team brought in high-performing electric and hybrid plant as an alternative to conventional equipment, to limit exposure to potentially high emissions and noise. This approach also resulted in a reduction in manual handling, as small, ride-on, 1.1-tonne electric dumpers replaced the traditional archaeologist's wheelbarrow. Using electric plant became a key way to deliver sustainable management of the 33,000-cubic-metre excavation.
Engaging the supply chain
Since 2012, Costain has been working with its diverse supply chain to examine how electric and hybrid plant can be adopted, improved and used on major infrastructure projects. A key driver is a determination to bring occupational health and safety benefits; another being to reduce impacts on the environment.
The Costain plant steering group has played a strategically important role. By creating an open forum for plant suppliers and their end users, Costain has been able to follow and guide the successful development of electric plant and equipment. This ensures that the group is positioned to trial and adopt it as soon as suitable sites are identified.
Collaborative working allows the joint venture to influence and engage during the early development of new products. An open forum limits duplication and ensures the right equipment is ordered for the project, thereby maximising the opportunities for learning and development. And the building of lasting relationships creates a high-profile platform for delivering excellence through sustainability.
Companies including Lynch Plant Hire, Flannery Plant Hire, A-Plant, JCB, Wacker Neuson, Speedy, Gap and M O'Brien Plant Hire have sought to bring products to market that can be trialled in live construction environments, thus ensuring a collaborative approach and direct, effective feedback from a prospective tier-one client.
Key to the delivery of many large infrastructure projects is the efficient, sustainable and safe management of materials and bulk excavations. Identifying the correct pieces of electric and hybrid plant at the earliest stages of any project ensures a sustained period for conducting trials, adequate time for operator familiarisation and feedback, and time for the team to adapt to the new technology on site.
"Zero emissions ensured a clean, pollution-free environment in an enclosed area for the whole site team"
Benefits and successes
Two JCB 1.7-tonne, fully electric, non-umbilical, 360° mini excavators managed localised excavations in over-consolidated London clay. Initial trials indicated that the tracked plant had excellent mobility and a raft of additional in-built safety features. However, the smaller one-two battery cells limited its use throughout the working day, even with the 15 rapid charge points. Feedback prompted the manufacturer to adapt the plant for not two but four battery cells, increasing the use-life to a full shift. More than 400 evaluation hours were generated by trialling activities on site, and the plant operators were interviewed to provide feedback on durability, efficiency, comfort and safety from an end-user perspective.
Use of these two machines at strategic locations provided a wealth of benefits. Manual handling for the site team was vastly reduced, permitting the archaeological specialists to focus on their key roles rather than 'muck-shifting' and logistics. All burials were excavated by hand, with plant operating only to remove spoil and clay from around the burials. Small plant was ideal for this task when fitted with a narrow, bladed bucket. Zero emissions ensured a clean, pollution-free environment in an enclosed area for the whole site team.
When asked about the benefits of increasing electric plant use on sites, air quality consultant Robert Lockwood said: "Not only are the Non Road Mobile Machinery (NRMM) emissions standards that have been adopted on the HS2 enabling works contract more stringent than any other construction project in the country, the use of electric plant goes even further to reduce the adverse occupational health and environmental impacts of the works. NRMM standards for our project are based on the Greater London Authority emissions standards but are more stringent, requiring the use of 'cleaner' machines. St James's Gardens sits within London's central activities zone, so Euro stage IV compliance is mandated for NRMM equipment, with road-going vehicles being Euro VI."
The small, electric Wacker Neuson DT102 tracked dumpers were a success, and championed by all on site. Provided by Lynch, they were adapted to inhibit the scissor-lift function (unnecessary for our works but posing a potential entrapment and pinch-point risk), with a front-loading shovel arm added, to reduce the need for manual loading. The six electric dumpers and two small electric diggers increased productivity with outputs exceeding five times the predicted level on some working days (average productivity increase was three times the original anticipated level). These were used in tandem with six electric 'e-muck trucks' – smaller, lighter electric wheelbarrows normally deployed in more domestic settings.
The Kramer KL25.5e electric wheel loader was also trialled on site, with the team using both front loader and forks for spoil management and lifting. This device proved to be capable of all the standard activities you would expect of a telehandler of similar size, lifting up to two tonnes. However, the battery life was more rapidly depleted, working with the heavy London clay.
The quieter electric plant ensured we delivered our works without exceeding any of the thresholds stipulated under our section 61 or trigger action plans, making us better neighbours and the site a better place to work. Communication was easier, and our workforce was not exposed to unnecessarily high levels of noise or intermittent spikes in noise caused by multiple pieces of plant operating nearby. The two 1.7-tonne electric excavators deployed on site are 6 dB quieter overall (LWA 87 dB) and 10 dB quieter (LpA 68 dB) at the driving position than a diesel equivalent. This correlates to a significantly reduced risk for both the driver and other operatives in terms of the potential impact on hearing (the Control of Noise at Work Regulations 2005 sets a lower exposure threshold value of LEP,d of 80 dBA).
The larger, 22-tonne hybrid excavator is also generally quieter than diesel-only equivalents, owing to the smaller engine sizes and time operating on electric while slewing. By dedicating the 22-tonne hybrid to the loading of wagons (static operations – electric while slewing), noise was greatly reduced.
The lower plant noise emissions enabled us to reduce the impacts on site operatives as well as our neighbours and key stakeholders, by demonstrating best practicable means in the control of noise and vibration and compliance with s 61 consents.
Project director for the Euston area, Paul Snelson, said of St James's Gardens: "We have pioneered the use of electric plant at all stages, and the benefits have been threefold: minimising manual handling; reduction in emissions mitigating the need for a complex ventilation system; and the reduced need to refuel vehicles, which is always fraught with the potential for slips, trips and fuel spills. The wider benefits to the workforce and communities in which we work are clear."
Risks and challenges
Reduced engine noise is a benefit in terms of environmental impacts. However, the fact that this plant is almost entirely silent during operations has introduced a new risk: increased incidences of unexpected proximity to plant.
Accordingly, we placed management of plant and pedestrian interface high on the agenda, to ensure segregation wherever possible. On site we are used to deploying all senses, particularly hearing, to physically register the presence of plant and act accordingly to avoid it. In this instance, completing a visual check, sticking to pedestrian walkways and engaging with banksmen and traffic marshals at all crossing points became paramount. We carried out additional training, including Lynch 'Thumbs up' briefings, five times during the lifespan of the works, to mitigate the risk of complacency. Up to 180 operatives participated in the workshops given across a working day, at different locations around the live work site.
One challenge that had to be incorporated into our site management plan and design brief from the outset was situating suitably placed, and sufficient numbers of, charging points. For future projects working along linear routes (such as highways, utilities and rail), particularly in rural environments, this is something that needs to be designed and planned during pre-start phases, as 'stranded' plant is a significant risk, and could incur loss of time and efficiency.
Conclusions
The industry is changing and there are some robust and user-friendly pieces of electric plant and equipment on the market. Numbers and availability are still limited, although increased demand and willingness to adopt new technologies will change this.
Archaeological works have benefited hugely from the innovative application of electric plant, which has increased predicted work outputs by up to 500%. The combined effect of electric excavators and small electric dumpers has reduced manual handling hours substantially and, as a result, there were few reported musculoskeletal injuries over a one-year period. This was significant among archaeological contractors, who are prone to these owing to the nature of their work and use of more traditional hand tools.
Electric plant has been key to delivering a LEAN and streamlined approach to a challenging urban site in central London. By eliminating the need for regular refuelling, the impacts of noise, emissions and vehicle movements have been mitigated. Although it has not been possible to field a 100% electric and hybrid fleet, the benefits of selecting the right electric plant for the right job have provided demonstrable safety, health and environmental value throughout the duration of the works.