SHP meets Professor Erik Hollnagel
Ahead of his Keynote session at April's EHS Congress in Berlin, SHP spoke to renowned university Professor, Erik Hollnagel about how to successfully implement resilient systems within an organisation.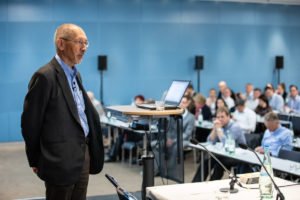 Erik Hollnagel is an internationally recognised specialist in the fields of resilience engineering, system safety, human reliability analysis, cognitive systems engineering and intelligent man-management systems. He is a Professor at Jonkoping University, located in the city Jonkoping in Smaland, Sweden and has authored more than 500 publications, including 22 books, articles from recognised journals, conference papers and reports.
He told SHP that he 'stumbled' into safety in 1979. "My endeavour has always been to understand what systems are and how they function in general. Safety is one facet of that, but there are others that are just as interesting. Unfortunately, systems get more and more complex, so it is a never-ending pursuit."
Professor Hollnagel defined safety as not something you can 'have', saying that safety is not a substance or a quality. "Being safe is something you can work towards – individually and as a society. It is not actually possible to manage safety. But it is possible to manage performance so that nearly everything goes well and very little does not."
Building resilient health and safety systems
Having resilient systems in place enables an organisation to take those things that have gone well and learn from them. "This is essential," Professor Hollnagel stressed. "Unless you know what goes well and how it goes well, you cannot possibly find ways to improve it."
"We do need to understand go wrong for the same reasons that they go well. But it is a question of unexpected combinations of everyday performance variability rather than unique causes that appear like a deus ex machina.
"My advice is to look at what is stable, not at what is constant. Stable performance provides the foundation for the existence and growth of any organisation or business. Managing exceptions, the unusual, is not a good strategy in the long run, and being constant, remaining the same, is definitely bad in a turbulent world.
He advised organisations to know where they are, where they want to be and what they want to achieve, before putting any kind of structure in place. "This is important for everything you do, not just safe performance.
"If you don't know your position, where you are, and don't know your target, where you want to be or what you want to become, you have no basis for controlling what you do – except if you just want to maintain the status quo."
Professor Hollnagel will be taking to the stage as a keynote speaker at April's EHS Congress in Berlin. Building Resilient Systems 2.0 will look at how safety efforts usually aim to eliminate or reduce unacceptable risk and harm.
"Delegates can expect to hear arguments and evidence, as well as practical tips, on what you need to do to ensure that an organisation's performance is resilient."
Intriguingly, he concluded that, "some should expect to be a little confused."
SHP