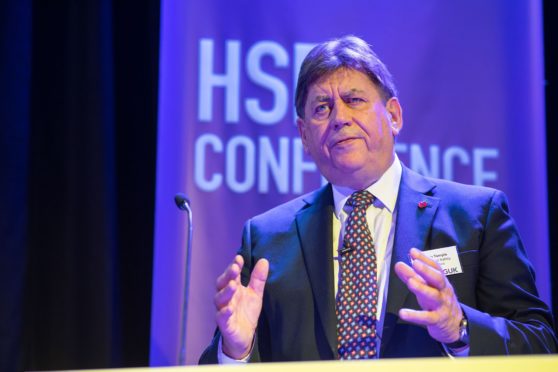 The chairman of the Health and Safety Executive has called out "complacency" on cyber security within oil and gas and other sectors across the UK.
Martin Temple was speaking as part of a panel at Oil and Gas UK's (OGUK) HSE conference in Aberdeen last week, following a spate of cyberattacks against companies with North Sea operations in recent months.
Mr Temple said: "You talk to so many companies who actually don't think they have anything to steal and they don't realise that they are absolutely targets.
"They probably have got quite a lot to steal. If nothing else they will have lots of information on their employees right the way through to some of their technologies.
"The other element of it is their product or service may well be used in a very vulnerable area where there is a lot to steal.
"This complacency is quite remarkable in some areas across our whole economy."
Last month, Malaysian operator Hibiscus Petroleum, which has assets in the UK sector, reported a cyberattack which forced the shutdown of parts of its IT system.
Earlier this year, Aberdeen-headquartered energy services firm EnerMech was hit by a major attack which impacted its global business.
Petrofac and Italian oil services firm Saipem have also been targeted in the last 12 months.
At Offshore Europe in September, the head of Saudi Aramco's cybersecurity division warned of the "exponential" growth in the threat in recent years.
Speaking at the HSE conference in Aberdeen last week, Mr Temple added: "When you talk about cyber security, a lot of people think 'they don't mean me or us'. It is everywhere, the number of threats we come across is daily.
"Some are more malicious than others and people have just got to be extremely vigilant no matter what their business is."
Energy Voice