After a recent career change which has seen her step into the world of health and safety, IOSH's Future Leaders Community has helped Joanne Lund (pictured below) to quickly find her feet within the profession.
Joanne Lund's first exposure to health and safety came in her role as Hygiene Front Line Manager at Allied Bakeries, where she has worked for the last 11 years.
She quickly fell in love with the idea of a career in the occupational safety and health profession, which led to her undertaking a diploma in 2017 which further enhanced her determination to embark on a career in occupational safety and health. Recognising her passion, the company has now moved Joanne into the role of Interim Health and Safety Coordinator.
New experiences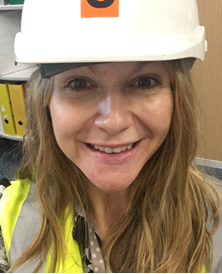 As a new health and safety professional, the Future Leaders Community has played a pivotal role in helping Joanne find new opportunities and grow her skills to enable her to adapt to her new role.
"My first experience of the community was attending IOSH's first Future Leaders Conference on 5 November and it was hugely beneficial for me – from both a professional and personal perspective," she explained.
"There were so many brilliant speakers and thought-provoking topics. A particular highlight was the talk on mentorship which got me thinking about my own route into mentoring, and I've actually got a meeting soon to discuss how I could move forward in that type of role. The event was also a great networking opportunity which allowed me to meet so many knowledgeable people.
"From a personal perspective, the thought of going to a conference and not knowing anybody is really daunting – but as soon as I stepped into the room, my worries were eased. The atmosphere was electric and everyone was really friendly; it really solidified my existing feelings that health and safety was the career for me."
Looking to the future
Aside from the conference, Joanne has taken advantage of the wide range of resources available to her through the Future Leaders Community, such as the forum. Being involved with the Community has also made Joanne aware of the wider benefits of IOSH, and she's recently completed IOSH's Train the Trainer course and will soon be delivering the Managing Safely course in her workplace.
She believes that the community will continue to support her mission of making a difference to the safety, health and wellbeing of workers.
"IOSH has provided us with a platform to meet like-minded and passionate people who can work together to become the future face of health and safety," she explained. "The more people who engage with the Future Leaders Community, the more of a powerful position we'll be in to make a real difference to the future of the profession.
"I would recommend the Future Leaders Community to any new professional out there. The community is an incredible platform for new and aspiring health and safety professionals."
IOSH