IOSH-funded research shows how major construction projects like Tideway can improve the management of occupational health risks and help 'raise the bar' across the wider sector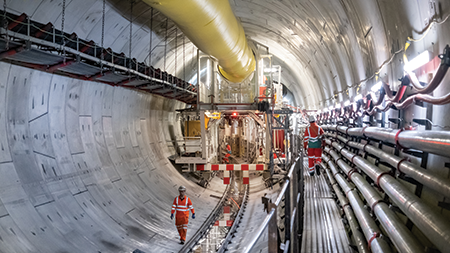 Occupational hygienists are relative newcomers to the UK construction sector. Unlike in oil and gas, minerals extraction and manufacturing, where the use of experts to provide advice and monitor occupational health exposures has been a feature for decades, the placement of occupational hygienists has historically been limited to only a few high-profile construction projects: the London 2012 Olympic Park build, and later, London Crossrail.
However, it was Tideway – the company building the 25 km tunnel below London to stop sewage overflows into the River Thames – that was the first to procure occupational hygienists for the entirety of the seven-year project.
From its inception in mid-2016, the £4.38bn 'super sewer' development was also the first to be the focus of a longitudinal study by Loughborough University, a three-year IOSH-funded initiative, which evaluated occupational health management in real time.
Generating valuable data to inform decision makers so that missteps are not repeated in future projects, the research sought also to identify good practice that could be shared and adopted across industry, most significantly in small- to medium-sized enterprises where the majority of the workforce is employed.
To track developments and report back, the researchers were embedded into each of the construction teams working for the main works contractors who were tasked with building the three tunnel sections in separate joint ventures.
In July last year, three members of the Loughborough team and Jennie Armstrong, Tideway's head of occupational health, safety and wellbeing, outlined some of their key findings in the 'Raising the bar for occupational health management in construction' research paper, which was published in the Institution of Civil Engineers' journal Civil Engineering (bit.ly/2ZJIUuF).
Drawing on practical examples from Tideway to demonstrate how interventions can 'raise the industry bar', the paper's conclusions included a call for a more consistent approach to occupational health management and health surveillance, with a commitment to better training and improved portability of occupational health data.
Health parity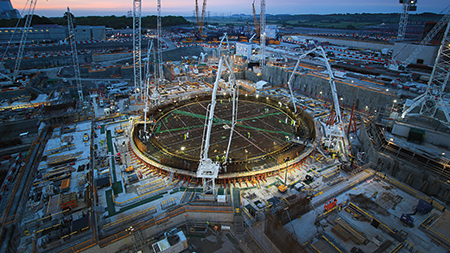 One of the most effective ways to achieve better consistency in the management of occupational health risks is to encourage and support line managers and supervisors to take ownership of this. This also means that OSH professionals, who have traditionally supported their reporting lines to ensure safety has been effectively incorporated into project management, need to apply the same principles to health.
As the research shows, however, this rarely happens consistently, in part because OSH professionals don't always have the 'health' expertise to offer the support needed. A key observation in the paper is that, if line managers are to accept ownership for health risks, they need 'knowledgeable' OSH professionals to support them, backed up by specialists such as occupational hygienists and occupational health nurses.
"The challenge is that we need to understand occupational health better and transfer some of that knowledge to other professionals," says Professor Alistair Gibb, who heads up Loughborough University's research team on OSH in construction.
"[We need to transfer that knowledge] to the ordinary rank and file, supervisors and managers in the same way over the past 20 years we have transferred some of the safety knowledge, which was previously limited to the safety professionals. Now most managers in bigger companies and on larger projects do understand the key safety principles."
This is what Tideway (and some other large construction projects) has sought to do with health.
Consequently, managers, workers and any others involved in assessing and managing health risks can take this new skillset with them to their next project, helping to disseminate the knowledge consistently throughout the wider sector.
If line managers are to accept ownership for health risks, they need 'knowledgeable' OSH professionals to support them
If line managers are to accept ownership for health risks, they need 'knowledgeable' OSH professionals to support them
On Tideway, occupational hygienists were brought in at the project's inception to identify and eliminate many of the health risks before the construction phase kicked off. This involved planning well ahead to anticipate any risks that the workforce would need to manage in later stages. "When the occupational hygienists were looking at some of the activities that were coming up, they put together essential standards, which identified some of the hazards that the workers would encounter," says Armstrong.
"[These standards also state] what the minimum expectations are [for managing them] and some good practice examples of what they should consider [as control measures]."
As Kelvin Williams, senior occupational hygienist at Hinkley Point C, explains, a similar approach has been applied at the new nuclear power development in Somerset in south-west England. Williams is one of three occupational hygienists currently employed to work on the complex infrastructure project, which is due to be completed in 2025. Using a health risk assessment approach adapted from other industries, the hygienists work with the project's tier 1 contractor to identify and control future health risks. "We split work down into discrete employee groups – steel fixers, concrete finishers, welders, for example," he says.
"We break it down into what we call 'similarly exposed groups'. Then we use a pre-populated menu to identify what exposures those groups are going to get, such as noise, vibration and fumes. When we know that, we risk-rate each of those exposures and plan control measures and occupational hygiene support."
Armstrong emphasises the importance of using occupational hygienists (where possible) in the early design stages to eliminate risks. However, she adds that projects shouldn't rely too much on them. The reality is that occupational hygienists won't be able to attend every design meeting, so a more practical solution is to focus efforts on upskilling designers. This was an additional priority for Tideway's hygienists in the early stages of the project.
Gibb, however, also adds a word of caution. He points out that designers also have to consider safety risks and, although he welcomes encouraging designers to find ways to design out occupational health risks, this shouldn't get in the way of preventing potentially catastrophic events.
"It's that almost intangible difference but a difference we do need to recognise," he says. "I've long been in favour of not chastising or castigating architects and design engineers because they don't understand health and safety but rather help them do what they can to make good design decisions."
Knowledge transfer
At Tideway, the early involvement of hygienists has enabled their role to evolve: now that the project has moved from design to build work, they are able to step back and get involved where their specialist skills are most required.
"Their main role now is working with our managers on a [one-to-one] coaching programme and offering support rather than doing a lot of the traditional hygiene work that they would have done," says Armstrong.
She adds this includes giving managers the confidence to deal with certain hazards.
"In the phase we are going into now, a lot of the work is around assurance. There are lots of things that managers can do visually… They haven't got to use a qualified hygienist at that point."
Tideway has invested heavily in the reporting of health hazards with both lagging and leading health-specific measures included in its health and safety performance index. There is also its RightWay assessment, which is similar to a maturity index. Tideway uses it to benchmark its contractors against each other, to look at certain health topics and measure how they are performing as well as encourage continual improvement.
"Major projects are getting used to doing that but to get senior management buy-in, they need the visibility of the data to understand where the focus is," says Armstrong.
"Sometimes if you compare health with safety, you instinctively see safety as the more significant risk. At the moment, we are taking health and giving it its own special focus to ensure that it doesn't get lost behind the key safety risks."
Armstrong adds: "It doesn't have to be overcomplicated, but one of our key activities is doing health inspections. If they don't get measured, you might find the safety ones become a priority over health."
Tideway's development and use of an Occupational Health Index tool for assessing health risk management (see 'Tideway: On the tools', IOSH Magazine, February 2018: bit.ly/2QHhWzE) has been pivotal in raising the awareness of health risk exposures among the entire project's workforce. The tool's scores are used to identify where additional interventions are needed.
Although the occupational hygienists originally used the tool to assess the risks and establish a baseline for good practice, site managers have since taken over responsibility for carrying out inspections. This is another area where the occupational hygienist provides a supporting role, which includes running specially designed training around occupational health and how to undertake a health-specific site inspection.
Gibb has been impressed by how Tideway has dealt with measurement and performance metrics for health. However, he has advice for others looking to apply health metrics: "We need to keep reviewing them, considering them, interpreting them maturely and making sure we don't just get a tick-box exercise, where people say,
'Yes, we've done that' but then stop moving forward."
At the moment, we are taking health and giving it its own special focus to ensure that it doesn't get lost behind the key safetyrisks
Developing skills
For the wider construction industry where resources may not stretch to employing an occupational hygienist, redressing the balance between safety and health in management training is important, to ensure both are properly recognised and understood.
IOSH and the British Occupational Hygiene Society already provide short courses, including IOSH's SHE for Construction Site Managers and SHE for Construction Workers (bit.ly/2RQqLry). The latter's certificate in controlling health risks in construction (CCHRC), was developed in response to the growing demand for training site supervisors and managers (and designers).
According to Williams, Hinkley Point will become an accredited provider of the Construction Industry Training Board-approved course on its site this year.
"[What the course does is explain] where the main hazards are, how you look at the risks and control them," he says. "It really helps them understand occupational hygiene principles and also determine when to refer to the hygienists."
More training is also needed for front-line workers so they are upskilled to identify health risks. Often health hazards are underestimated due to the low visibility of their impact. Unlike safety, where injuries are clearly visible immediately following an incident, the long latency of many health conditions means the damage only becomes apparent months or even years later. Also, some health risks, such as respirable dust are not easy for workers to assess, unlike the risks posed by work at height or workplace transport.
"We're delivering a one-day occupational health awareness course for all managers and supervisors and everyone will go through it," says Williams.
This is supplemented by a range of more detailed awareness courses covering specific issues such as dust, hand-arm vibration and noise.
He adds: "There are only three hygienists on-site, so we also produce technical briefings for managers and health and safety staff covering a range of health topics, for example, 'diesel engine exhaust emissions – should I be worried?' We tell them what the basic issues are and we always put a checklist in there: 'Have you got this? Are you seeing that? Is anybody experiencing this? If so, call the hygienist.'"
Tideway has also taken a number of practical steps to enhance not only managers but also workers' knowledge of the health risks (see 'Knowledge boost' below).
As Armstrong explains, this includes its use of Loughborough University's LUSKInS wearable interactive training tools, to simulate dermatitis, hand-arm vibration syndrome and back pain "to bring some of the health risks to life", so that workers can experience the longer-term impact of health conditions. 
Knowledge boost
To increase managers' and workers' knowledge of the health risks, Tideway took a number of practical steps, including:
Occupational hygienists were engaged by all the main works contractors as a requirement of the Works Information and have worked to improve the workforce's understanding of health risks and how to manage them.
'Essential standards' have been produced for the main hazards, which describe what they are and the required control measures. These cover activities which commonly present low, medium and high risk, together with guidance on when specialist advice is required.
Training sessions for project managers, engineers, supervisors and others who contribute to risk assessments with a focus on practical control measures.
Occupational hygienists provide one-to-one coaching, for example, to provide feedback on risk assessment and method statements or to guide assessors through an inspection.
Job-specific training and targeted toolbox talks have been delivered at the point of work, for example, discussing the impact of wood dust for carpenters.
A card-based training game was developed to teach workers about typical noise levels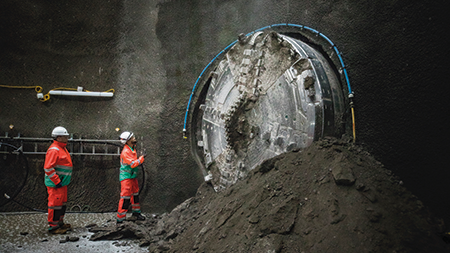 Health records
One of the other key lessons that the researchers drew from Tideway is the need for a process to manage health data, so that a worker who has health surveillance with multiple employers as well as several occupational health providers over their career can access it.
"Construction has been wrestling for years with the challenge of health surveillance," says Wendy Jones, one of the Loughborough University researchers who was embedded in the Tideway project.
"There is a primary issue in that many workers don't get any surveillance because they work for small companies that don't organise it, or because they are self-employed or work through agencies. But even when they do have it, [the surveillance] is rarely joined up."
In practical terms, this means that a worker who has a hearing test on a large-scale project like Tideway or Crossrail won't be able to see whether their hearing has changed since that test after they move to the next project, she says.
"It's just too difficult for anyone to get hold of the records from the previous occupational health provider; the construction sector is so fragmented and many contracts are transient."
A new proposal called People's Health (see box, below), which is being developed by B&CE as a replacement for the Constructing Better Health initiative, promises to overhaul the current system, joining up records and enabling the construction industry to collect more accurate data on work-related ill health.
Not only will it enable individual workers to 'join up the dots', but also "it will make it really clear to employers what they need to be doing," says Jones.
"It will encourage them to focus on the key health checks which relate to work hazards, rather than getting side-tracked by things which are nice to have but are not work-related or essential."
Reflecting on the research findings, Gibb notes that the challenge for occupational health remains with the harder-to-reach businesses. "The difficulty is on a small project with an individual contractor where you don't have that same multi-organisational buy-in," he says.
The difficulty is compounded by the fact that, unlike larger projects, where real inroads have been made to drive up safety performance, many smaller projects have not replicated these same improvements.
"It would be foolish for people to go [to a small business] and say, 'Don't worry about falls from height, you've really got to concentrate on hand-arm vibration' if the scaffolding was a complete mess," he says.
He argues that perhaps this is an area where IOSH can have an influential role through its members, disseminating good practice through the supply chain and promoting its occupational health campaigns.
"If silicosis is the next big respiratory-related disorder after asbestos, my experience would suggest that we must focus on the smaller projects, where there is a much less stringent use of water suppression, extraction and the correct personal protective equipment [where it is necessary] than there is on the biggest projects."
People's Health

Developed by B&CE and piloted in late 2019, People's Health recommends three-yearly health checks for all construction workers. The model lets workers manage their own health records through a smartphone application, which will also be shared with their occupational health service providers should they give their consent. Under the new system, health surveillance will need to be carried out for noise, dust, skin and hard-arm vibration syndrome where a risk assessment shows it is required and, where necessary, workplace adjustments will be recommended to accommodate the worker's health conditions.  Jennie Armstrong, head of occupational health, safety and wellbeing at Tideway, believes it will be a game-changer for the industry. "For a lot of individuals, they've had the health checks before, but often it can be cheaper and easier to get them to do the surveillance again," she says. "Then for us, we don't have the knowledge of what their past exposures have been like, what their last record was to see if it has changed, whether it has improved or got worse."[People's Health] will probably free up a lot more resource so it can be spent on prevention rather than doing more health checks."
IOSH