Andrew Sharman – "Exciting times ahead"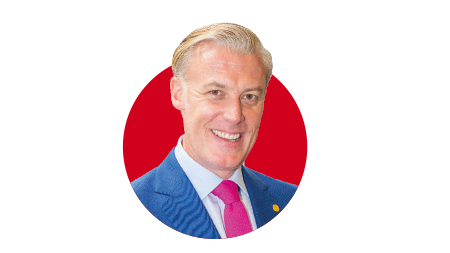 On 17 September, at IOSH's AGM, I had the great pleasure of taking over from Vincent Ho as IOSH president. It's going to be an exciting year.
The president is an ambassador for our members and our profession, and I am being ably supported by Vincent, as immediate past president, James Quinn as president-elect and an excellent team of six vice-presidents.
IOSH is becoming more global and more connected. We are now in regular contact with like-minded organisations in more countries than ever before, and I want us to become even more successful at establishing our internationally influential voice.
We have much to do to ensure that workers go home without harm every day. I feel that now is a time we'll look back on in future years and reflect how practitioners around the world really made a step-change in workplace safety.
I want to work for continued change of perspectives about our profession. For far too long, it has been blighted by negative media attention and even ridicule. Our members have been standing strong against this and forward-thinking organisations are appreciating the valuable contribution investments in safety and health bring to their business and their people.
As a result, perspectives are changing steadily. I'm determined that this continues to happen. Health and safety is not about rules and bureaucracy and creating burdens. The work we do enables success and builds future resilience.
I want us to champion IOSH's drive to support people and organisations in developing OSH practitioners to become professionals with the cultural, behavioural and leadership skills that add even more to their organisations and value chains. Our profession needs to lead change – in strategy and in culture – so practitioners need to move from the backroom to the boardroom.
We need to think about the inputs required for great workplace health and safety and look at those elements that shape cultures and drive behaviours. What we do is never simply about preventing accidents, but rather creating safety through improved teamwork, enhanced understanding, increased morale and engagement and better leadership. When we focus on getting the inputs right, the right outputs will follow.
The same is true of what we all invest in our professional body.
Members who volunteer for IOSH really are our life blood as a professional body and charity. Not only do we initiate and co-ordinate lots of vital engagement work, strengthening and improving networks in regions and sectors, volunteers also add experience and expertise, alerts to current or emerging challenges, and new thinking to improve the work we do.
I have been consciously "giving back to pay it forward" through volunteering for two decades now. I began on the Edinburgh Branch committee, became vice-chair, then chair, served on committees, on IOSH Council and as vice-chair of the Board of Trustees.
I urge you to get more involved. We have much to do, and we need every member to add their weight. Being a member of IOSH is eloquent testimony of what you offer as a safety and health professional. But being an active member, giving time to fellow professionals – by joining your IOSH branch or group committee, mentoring, peer-reviewing or putting yourself forward to serve on the IOSH Council – demonstrates a resolve to make a difference to those around you and to your professional body.
I feel so deeply honoured to represent our global institution – and optimistic as we look ahead to 2020 – IOSH's 75th anniversary and my 21st year as an IOSH volunteer.
IOSH