Stuart Pierpoint, UK Sales manager HCL, highlights some of the issues to be aware of and provides some top tips to help mitigate risks for those working at height at this time of year.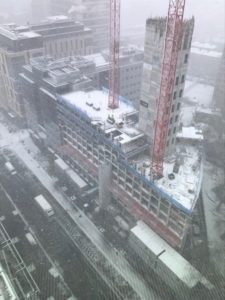 We all know working at height carries many potential risks. But after an autumn, that's brought with it more than the average amount of rain for this time of year, and moving into the winter period, the risks of working at height can increase.
Setting the scene
Tragically, slips, trips and falls already account for 28% of all fatalities at work in the UK, at a cost to UK businesses approaching £1bn per year (according to slipstripsandfalls.org.uk). And while we're all familiar with a bit of rain here in the UK, wet weather can increase these risks, thus bringing to the fore the need for diligent preparation and quality training. Both should always be fundamental to a robust fall protection regime but are particularly pertinent when working in poor weather.
Impacts of rain
Inclement weather can impact building performance at this time of year, bringing with it issues such as leaking roofs and blocked gutters, both of which can put a dent in productivity and facility maintenance costs. After all, a building with issues is likely a building that won't be fully operational.
With an increased number of buildings requiring attention and maintenance, we naturally see more people operating at height in potentially hazardous conditions – slippery surfaces, heavy rain, storm debris, leaves and poor visibility are all things to be aware of over the next few months. So how do we safely negotiate these challenges and mitigate risk?
Preparation is key
It may sound relatively straightforward, but proactive wet weather planning lies at the heart of any robust working at height regime. Ensuring buildings are equipped with the most appropriate and high-quality fall protection systems is the best place to start, followed by comprehensive risk assessments – including dynamic risk assessments, if necessary – and the robust training of all operatives that may need to work at height.
Annual checks and inspections will help to ensure fall protection systems remain fully compliant with the latest regulations and standards and that any proactive repairs, maintenance, or replacements can take place in a safe and timely fashion. This will not only help to protect your culpability in the unfortunate event of an incident but provide you – as someone responsible for safety – with all-important peace of mind, safe in the knowledge that your workforce is as prepared and well-equipped as possible.
When it comes to working at height, there's no doubt that bad weather can bring heightened risk, but this doesn't necessarily mean that ongoing essential maintenance needs to come to a complete halt. By considering these few key elements, we can help workers remain safe and well-protected and importantly, go home safely to their families at the end of every working day.
SHP