How to develop an effective mentoring partnership and the power skills that OSH professionals will require to wield influence in the boardroom and beyond were among the topics covered at the inaugural future leaders conference .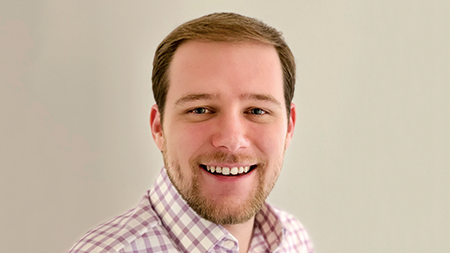 It was an honour and a pleasure to chair the inaugural future leaders conference. The energy and buzz around the room were palpable, and it felt we were doing something different and exciting. I met lots of delegates from all backgrounds. They were at various stages in their OSH career journey, but all shared a desire to change the face of the profession.
We want to bring together future OSH leaders from across the world. The heart of the future leaders community will be the online discussion forum, where I hope the buzz and energy of the conference will continue.
Members can share their personal experiences, ask questions, seek advice and – most importantly – learn from each other.
Join the conversation at iosh.com/futureleaders
Businesses around the world are increasingly seeing the value in investing in safety, health and wellbeing, according to Jamie Laing, group safety business partner at Sainsbury's. "Good health and safety makes good business sense, offering a competitive advantage and helping businesses prepare for a more sustainable future."
That was Laing's rallying cry at the first future leaders conference, held at the Crowne Plaza by Birmingham's National Exhibition Centre on 5 November.
One of the eight peers comprising the first future leaders community steering group, Laing set the scene for the day by highlighting some of the emerging trends that will transform work environments, from changes in workforce demographics to more dynamic employment practices and the take-up of intelligent technologies.
The future leaders community forms part of IOSH's 'enhance' pillar in its Work 2022 strategy. Its steering group, which was formed earlier this year, has worked with IOSH's professional development team to plan, develop and implement support and services for new and aspiring OSH professionals. Laing underlined the importance of arming the next generation with the right capabilities to help them 'horizon-scan' and prepare for the future.
"As OSH professionals, we need to be aware of how the world of work is changing, and how we can work within our organisations to respond in order to create that safer, healthier future and better protect workers around the world," he said.
Diversity pays
Keynote speaker Neil Lennox, head of group safety and insurance at Sainsbury's (see our leader interview: bit.ly/32nInhY), took delegates on a journey through his career, peppering it with anecdotes of how the OSH landscape had changed since the mid-1980s and offering advice to the younger generation (see box, below), including the future skillset that will be required to influence the wider business as well as some pitfalls to avoid.
The IOSH Retail & Distribution Group member told delegates that one of the major challenges facing the profession was how to attract a pool of younger, more diverse OSH practitioners. He admitted that at Sainsbury's: "We have a team that is mainly white, middle-aged and male."
Pointing to his own employer, Lennox said that historically he had sourced recruits internally because he couldn't find the right candidates outside the supermarket giant. This, he reasoned, was because he could teach internal candidates about safety but not the other skills they would need to acquire, which could be gained only from working on the shop floor.
Asked later in the question-and-answer session what external recruits could do to strengthen their case, should he come looking, he responded: "Probably the biggest thing that I look for is somebody who I feel has got some passion, some enthusiasm and can sell something to me."
One of Lennox's first ever roles was as a sales engineer, and being able to 'sell something' was an attribute he encouraged delegates to foster. He recalled knocking on scrap metal merchants' doors around Barnsley and Rotherham, and how the interaction with different people had taught him valuable life skills.
"I guess in my heart I see safety as a sales job," he said. "What I look for above everything else is somebody who can engage, coach and bring [safety] to life for someone else."
He emphasised the need to build on the foundation of the technical skills that OSH professionals possess, and urged the 120 delegates to develop and sharpen an additional set of important capabilities that were referred to throughout the day as 'power skills'. These would enable the next generation of OSH professionals to wield more influence in organisations through engagement and collaboration. On this note, he recommended that delegates consider doing a Master of Business Administration (MBA) to help them become more business-savvy.
"It's a phenomenal qualification," he said. "It teaches you all the language that you need to talk in a boardroom about spreadsheets, balance sheets and annual reports… If you get a chance to do an MBA or a management qualification, grab it with both hands."
Lennox told the conference he got his first exposure to the plc board and non-executives when he moved to national flag-carrier British Airways in the 1990s.
"What it taught me was that their requirement for information and their questioning were different," he said. "They didn't question me at all about anything technical. My technical knowledge was expected. What they would challenge me on were the cost-benefits, the implications, the risk and the best decision for them. I had to change the way I presented significantly, to talk to the non-executives, the board and the CEO."
Blueprint for success
Chartered member Tom Wike also presented his IOSH journey, and said he had benefited from using the
IOSH grades as a framework to structure and move his career forward.
The future leaders community steering group member works as health and safety manager (events) at the Football Association, and in his presentation he brought to life the multiple challenges thrown up by overseeing major sporting events at Wembley Stadium in London, and the shift in focus when the ground is converted into an entertainment venue hosting rock concerts during a hiatus in the sporting calendar.
Plotting the course from student to chartered status and beyond to fellowship, he provided delegates with some nuggets of advice to help them navigate their careers.
Wike advised delegates that, should they find it difficult to get financial support from their employer to support further qualifications at the start of their careers, they should consider self-funding as an option. However, he urged them to emphasise that they had supported themselves financially on their CV and talk about it at interviews.
"It shows the dedication that you've got to really progressing your skills and knowledge, as well as dedication to the profession," he said.
Wike also advised them to think about their careers as a pyramid: the bigger the base at the bottom, the higher their careers could climb, he explained.
"If you take one thing away from this presentation, grab every opportunity you can at the start of your career, because you never know where that is going to lead," he argued.
"Once you've got that idea of what you like, you may find you've got some weaknesses in other areas that you can develop and expose yourself to, and that's going to give you a much more rounded approach, CV and experience profile."
For the really ambitious graduates who had chartered status in their sights, Wike told them not to be intimidated by the requirements of the Initial Professional Development (IPD) scheme and urged them to register as soon as they had achieved graduate status, and look through all the skill points.
"You might find straight away there are four or five things in there that you can do on a daily basis," he said. "You just need to get that evidence together all in one place, send it off, and as a rule it will get accepted as long as you've fit the criteria."
Linking to a later presentation on effective mentoring partnerships, Wike advised delegates to find a good mentor who has been through the IPD process and could offer guidance.
Robots are coming
Bridget Leathley, health and safety consultant and regular IOSH Magazine contributor, sought to dispel the perception among some that the introduction of robots in the workplace should be something to be avoided.
She said it was important to take a positive approach – similar to that of the OSH professional in the events industry who shouldn't say 'No' to using pyrotechnics on the stage – and say, "Yes, we are going to use robots, and this is how we are going to manage them."
After explaining the five categories on the market, she said that robots were ideal for use in work environments that were hazardous for humans, including confined spaces and work at height. Leathley also provided examples of robotic applications in sectors as diverse as agriculture, manufacturing, retail and transport, and explained how they could provide a supportive role.
Giving cleaning as an example, she said: "Going back to the concern about the loss of jobs, this doesn't mean that the people who go in and do the cleaning would necessarily be out of work, because now they would be managing the robots. They can stay outside and the robots would do some of the cleaning work for them."
She also used videos to demonstrate where businesses had designed the workspace to ensure a safe interaction between humans and robots.
"Yes, there will be a lot of change, but from my following of artificial intelligence, the technology is not going to be taking over our jobs. The co-operation and collaboration between people and robots is where the secret of the real success of robots comes from, and understanding what people are good at and what robots are good at."
Mentoring partners
Blake May, compliance manager at Transport for Wales, and his mentor Lorenzo Visentin, group head of environment, health and safety at Arriva Group, offered a useful list of do's and don'ts in the pursuit and development of a successful mentoring partnership.
"I see it very much more as a human process," said the 26-year-old May, who chose OSH as a second career after studying chemistry. "It's not, 'Go and find a mentor and it will work out', like buying an iPhone. It's more like trying to find a friend."
Visentin advised mentees to talk to a wide range of different individuals throughout the OSH community, to find the right fit. The prospective mentor didn't need to be 51 years of age or have 25 years' experience in safety, he added. Nor did they need to be a chartered member. However, they could be a peer.
"If they have an experience that is better than yours, see if what you want to get out of the partnership is what they are prepared to offer," he said. "There are no clear-cut rules on whether you are going to click, so build your network."
May said personality was an important attribute when determining if a would-be-mentor could be a good fit. Personality came in two varieties, he said – do you get on with each other, and what development opportunities stem from their personality?
He explained the dynamic underpinning his partnership with Visentin, using the Myers-Briggs personality inventory: "We are both large extroverts, so we get on well. We're both loud, but looking at the different personality types, I am a feelings person so I tend to make decisions on 'that feels like the right thing' whereas Lorenzo is much more of a thinking person. He likes numbers, and does it because it makes sense."
May, a member of the future leaders community steering group, added that their differing approaches were complementary and critical to the success of their relationship. "What that [relationship] allows me to do is see [situations] objectively as well as the feelings side, to get me more politically savvy around board members."
Visentin told delegates that in the age of telecoms applications such as Skype, geographical distance should not be a barrier to picking a mentor. He urged them to "go shopping and be fussy", but also to take a long-term view on development through mentoring partnerships.
"Eventually, you'll find somebody who is right for you and right for you at that moment in time, because your mentoring needs will evolve as your priorities change," he said. "[Take] a holistic approach to your consideration of the fit."
The two presenters also returned to a theme that was raised several times during the morning sessions: how young professionals with limited experience could convince would-be-employers that they should be picked over more experienced OSH professionals.
May said that although he had been turned down for several roles in the past because "[employers] don't look at level, they look at years", he had noticed a shift in the past few years where recruitment was influenced by the perception of a candidate's "ability to become something".
His mentor concurred, and urged candidates to apply for jobs that required more experience than they had mustered.
"You can tell them at the interview why you've got ten years' experience," said Visentin. "You crammed it into that first 18 months because you had a great job, with a great mentor, and you picked up more skills than some of the slightly more mature practitioners."
Personal leadership
May also outlined some of the key attributes that underpinned his drive to succeed. Judith Underhill, executive coach at Underhill & Associates, picked up on this in the afternoon in an interactive personal leadership workshop.
Drawing on the Transport for Wales employee and other examples from earlier sessions, she said: "Personal leadership for me is not that I am necessarily leading a team but that I am personally leading myself every time I come in to work. Every time I present in front of somebody, I am personally taking leadership for who I am, what I do and how I say what I do."
A panel discussion, chaired by IOSH president-elect James Quinn, explored the issues raised during the workshop further. Drawing on questions generated anonymously through the polling platform Slido, which had been used throughout the conference, Quinn asked the four-person panel – comprising Lennox; Duncan Spencer, IOSH head of advice and practice; Shona Paterson, director at Shirley Parsons; and
Sarah James, assistant health and safety adviser at Carney Consultancy – to consider how the profession could best respond to a changing world of work.
Referring back to one of the workshop tasks, which had asked delegates to consider the key attributes that underpinned competence and capability, Spencer said: "I'd like you to go away and reflect that perhaps capability is much more important than competence."
The latter, he argued, was more about looking back at previous experience, looking at the present world and how OSH professionals could solve those problems.
"Capability," he said, "makes us look into the future, make some kind of predictions of what might be coming, and get the right skills now that we might need in the future. There is a whole change in emphasis."
Spencer explained that this thinking sat behind IOSH's new competency framework, which was being launched in November, and where "60% of the competencies are much more about these power skills that we've been talking about".
New resources
IOSH's chief executive Bev Messinger's closing address summed up the takeaways from the inaugural conference before outlining a suite of new resources that IOSH was providing to future leaders, including a new platform for mentoring.
"It's simple, it's intuitive and it's going to be available very soon," she promised delegates.
"You will be able to register as a mentee, mentor or both, and we can connect you with like-minded individuals in this country and across the world where you can have that conversation about [the right] fit and if it's going to work for you."
Messinger reminded delegates that IOSH would be recruiting for the next future leaders community steering group in early 2020 and urged young OSH professionals to put themselves forward and help their peers.
She concluded with the new competency framework, which she described as being "a far better blend and balance for a much more rounded OSH professional to take forward in their career."
For more information about the future leaders community and how to get involved: www.iosh.com/futureleaders
IOSH